Enrolments
The Catholic Education Office of the Archdiocese of Canberra and Goulburn is proud of the quality of the Catholic schools across the Archdiocese.
Catholic schools seek to contribute to the creation of an Australian community that is highly educated, skilled and cultured with an ability to promote and embrace a critical analysis of social issues, the expansion of knowledge and the pursuit of truth. Such a community will be marked by a vigorous intellectual and cultural life, accessible to all. Education has individual and private benefits, but it is also very much a public good whose benefits enhance the whole community. Catholic schools emphasise the contribution of education to the common good of the Australian community.
National Catholic Education Commission
Enrolment Period and School Tours
When places are available, St Monica's Primary School is happy to accept enrolment into all grades throughout the year.

Please contact the school to make an appointment with the Principal who will answer any specific questions families may have regarding the school or the enrolment process.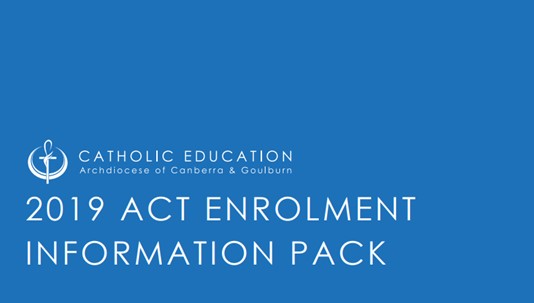 Please refer to the CE enrolment information pack for more detailed information about enrolment in an Archdiocesan Catholic school located via https://cg.catholic.edu.au/parents/enrolment/act-school-enrolment/
Enrolment
1. The minimum age for enrolment in an Early Learning Centre (ELC) is 4 years by 30 April in the year of enrolment.
2. The minimum enrolment age for kindergarten is 5 years by 30 April in the year of enrolment.
3.
a. Acceptance into an Archdiocesan Regional ELC is not a guarantee of a primary enrolment at the school at which the ELC is located.
b. Acceptance into an Archdiocesan primary school is not a guarantee of a secondary enrolment.
c. Enrolment of a child into the next level of schooling is a separate process.
4. A non-refundable Enrolment Application Fee is payable on application:
an ELC: $50 an ACT Primary School: $25